How would you describe your style?
Some words that I commonly use to describe my style are natural, organic, warm with a hint of rustic. Neutral, earthy tones, as well as soft colors, can all be incorporated into your session. I often use vintage and antique props like baskets and crates. These elements allow the focus of the photos to be on the simple and natural beauty of your new baby and the emotional connection between your family instead of bold colors or loud props.
When should I schedule my newborn session?
All newborn sessions take place within two weeks of delivery, so it is important to schedule your session while still pregnant to reserve a spot within this timeframe! I usually book 2 to 3 months in advance so it is never too early in your pregnancy to schedule your newborn session. If you are later than that, or your baby has already arrived, I occasionally have last minute availability and will do my best to accommodate you.
How do I book my session?
Once you decide which collection is right for you, I will send you a contract to sign, a $100 deposit to pay, and a welcome guide. Once you sign the contract and pay the deposit, your due date will go on my calendar and I will hold a session spot for you within two weeks of your delivery date. You must contact me within 48 hours of your baby's arrival to ensure a spot on my calendar in the ideal timeframe for photos.
What is the best age to photograph my newborn?
The best age to schedule the session is within the first 14 days after birth. This is when babies are most sleepy and curly for the newborn poses. Babies over two weeks old are more alert and sensitive to being posed during their newborn sessions. I provide a prep guide before your session so that you can prepare your baby the best way possible to ensure he or she is sleepy, and I will try my best using the right conditions such as a very warm room, lots of feedings, pacifier, cuddling (yay!), etc.
Where do newborn sessions take place?
All newborn sessions take place in my home studio suite in Bridgewater, NJ on a weekday morning. This allows me to have consistent lighting and a temperature warm enough to keep the baby comfortable, and access to all of my newborn blankets and props so that you receive the natural and organic style that you see in my portfolio! It's on a separate level in my house, and is equipped with all of the comforts of home and necessary baby stuff.
What can I expect?
Depending on which session you book, sessions can take anywhere from 1-3 hours. This is so that we have time built in to feed and soothe the baby (which you will see often takes the most time!!). The studio will be kept very warm to ensure your baby's comfort, so dressing in layers is encouraged. I supply light drinks and snacks, but feel free to bring food along with you. My clients love the opportunity to get out of the house in the first couple of weeks after birth. It is a great time to relax, catch up on email and social media, or even take a nap, knowing their little one is in good hands with me.
What is the difference between the newborn collections?
Wrapped Mini Collection: 1 hour session; 10 edited high resolution photos; No naked or blanket photos; Parent/Sibling/Family photos included.
In the Wrapped Mini Collection, baby remains wrapped for the whole session and we go through a few different setups of wrapped poses in baskets/crates/fur. Newborns absolutely love being wrapped and usually sleep contently for their sessions! This is a perfect session for parents looking for just a few photos, or newborns who are older than two weeks old, or parents who just don't love the nakey newborn poses!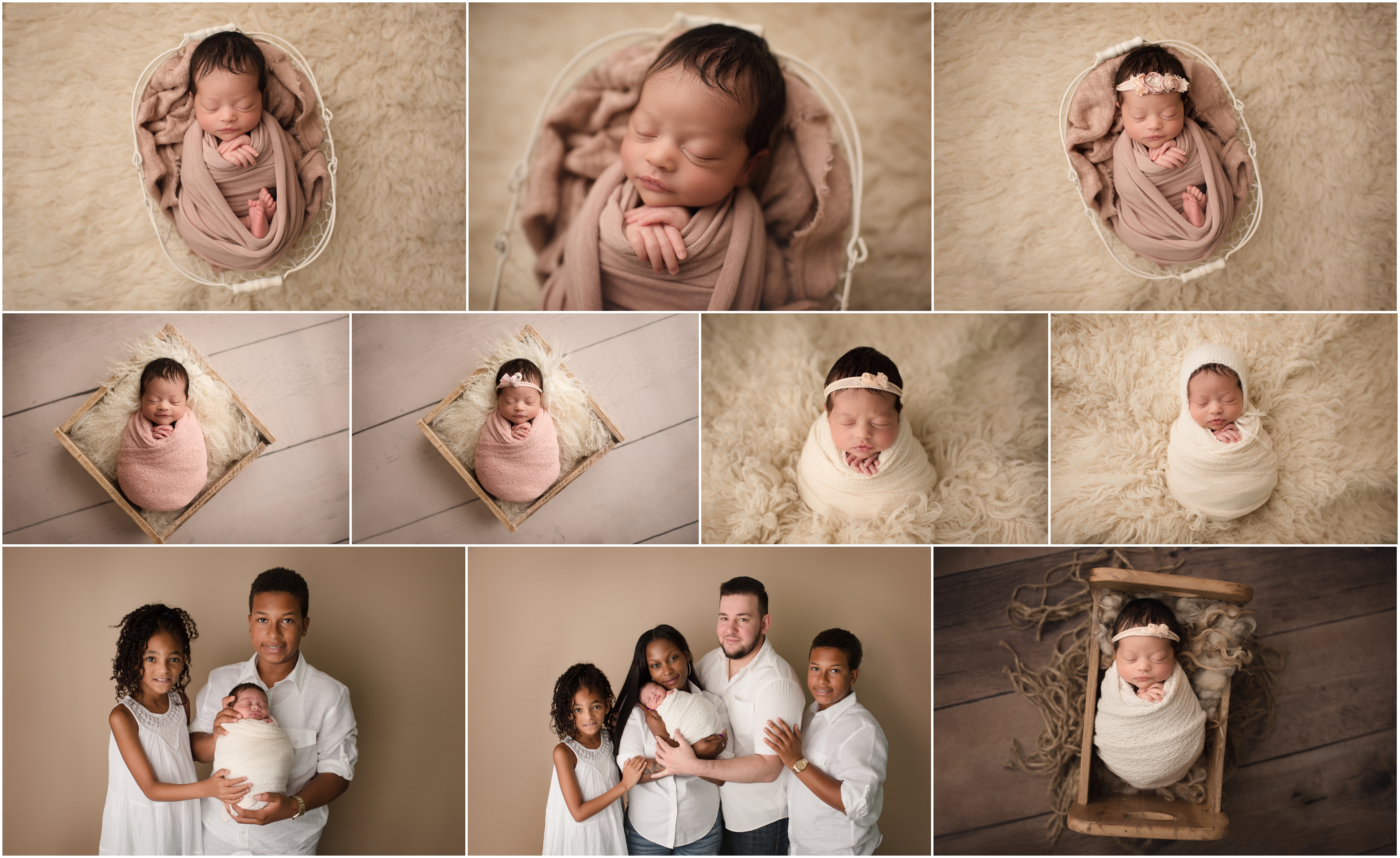 Signature Collection: 2 hour session; 20 edited high resolution photos; Naked and blanket photos included; 3-4 set-ups with baby chosen from the following options: blankets, basket, crate, bowl, and fur; Parent/Sibling/Family photos included.
The Signature Collection provides more set-ups and photos than the Wrapped Mini Session, and is perfect for parents looking for more variety in their newborn images. Most importantly, this collection includes naked and blanket poses, which many parents look for.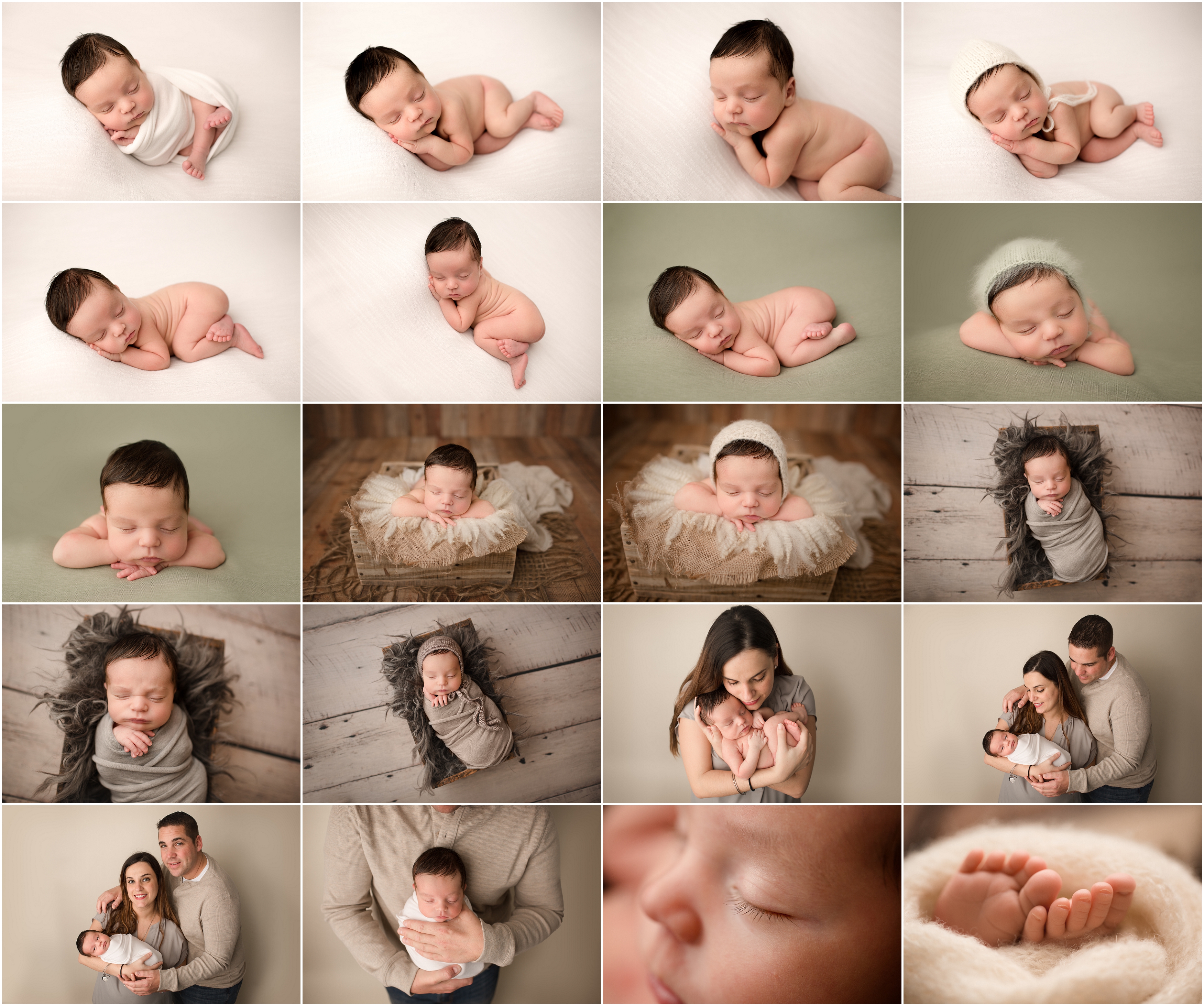 Keepsake Collection: 3 hour session; 30 edited high resolution photos; Naked and blanket photos included; 5-6 set-ups with baby chosen from the following options: blankets, basket, crate, bowl, and fur; Parent/Sibling/Family photos included.
The Keepsake Collection is similar to the Signature Collection and includes naked and blanket poses, but includes more set-ups with the baby (5-6). This collection provides parents the most variety during their newborn session and allows us to incorporate multiple blankets and different kinds of props. Perfect for families who are looking for larger photo galleries and have so many favorite set-ups, they want them all!
PLEASE NOTE: A set-up can be any of the following options:
• Baby on blanket (multiple poses are included)
• Baby laying in prop (basket, bowl or crate)
• Baby on belly facing forward in prop (basket, bowl or crate)
• Baby on fur
Within each set-up, headbands/wraps/hats can be included, along with multiple different poses during one blanket set-up. So parents receive multiple images for each set-up.
Can I bring props to my newborn session?
I provide all of the blankets, hats, headbands, wraps and props you see in my photos. If you wish to include an additional item, please limit the amount that you bring to 1 or 2.
How do I prepare for my session?
Once you book, you will receive a prep guide via email that will give you more information about how to prepare. In summary though – lots of milk, white noise and heat are all the things that go into the session so that we have a nice sleepy baby!! And then as soon as the baby is born, contact me to get your session date scheduled!
Do I receive the high resolution photos?
Yes, you receive the full resolution edited images in an online gallery with all packages. The printing rights are included, so you can print anywhere and at any size. There are no hidden fees and no additional purchase requirements.
Balance payment is accepted on the day of the session via cash, check or credit card.
Contact me here if you have any more questions or to schedule your newborn session! I am looking forward to working with you!