Pretty early on in my photography journey, I decided that being a wedding photographer was not for me. Guys, wedding photography is TOUGH! It demands a lot of time, investment, and passion for that type of photography. I knew that I did not have the time to dedicate to pursuing weddings. However, I still had the passion! After my own wedding, I never stopped looking at wedding blogs like Style Me Pretty, and pinning wedding ideas to Pinterest. So what did I decide to do? Become a second photographer, aka assistant photographer, at weddings for my good photographer friends Alex and Jay of Idalia Photography!
Over the past two years, I have now assisted them at a few different weddings, and I thought I would share with you some tips I've learned on how to be a good second shooter, along with some photos from the most recent wedding I did with them this past weekend. Although I never plan on becoming a wedding photographer, for those of you who are, second shooting is also a great way to gain experience and build a strong portfolio.
1. First and foremost, have a contract!
You need a contract so that you and the primary photographer know the terms of the agreement – including hours of coverage, dress code, delivery of images, payment and what you as a second photographer are or are not allowed to post to your own website or portfolio. Photographers vary in their agreements but for us, I am permitted to include some photos in my portfolio and will only post AFTER Idalia Photography has posted their sneak peek. And I do not tag or share the photos with the clients of course! That is for the primary photographer only!
2. You represent the primary photographer at all times.
At no point do you promote your own photography business. If I am asked who I am by the family or guests (which I often am!), my response is assistant photographer to Idalia Photography. Leave your own business cards at home and be prepared with a few of your primary photographer's business cards.
3. Your job is to HELP.
Help the primary photographer in any way you can. Carry equipment, open doors, find drinks, corral family members, check the details during portraits. You are not there to get the shot, you are there to help your primary photographer get the shot. Pay attention to the little stuff – fluff the bride's dress, straighten the groom's boutonniere, make sure the background is clear.
4. Be where the primary photographer cannot.
One of my main jobs is to be with the groom when he is getting ready with his guys because the primary photographer is with the bride and the girls. She physically cannot be in two places at once. So that's where I step in. Arrive prepared with a shot list of all of the photos you want to get while with the groom. Below are some groom shots I captured at the wedding over the weekend. Are groom shots as exciting as the bride and bridesmaids shots? Typically not. But it is fun to get creative with some of the groom details like cuff links, ties, sunglasses, etc.
5. Get different angles.
There are times when you will need different angles of the same event. Especially during the first look between the bride and groom. You need to capture both the bride and the groom's expression, and the best way to do that is to coordinate with the primary photographer so one of you is getting the groom and the other is getting the bride. This past weekend I photographed the bride while Idalia Photography photographed the groom!
Similarly, during bride/groom, bridal party and family portraits, never shoot over the shoulder of the primary photographer. First, the primary photographer does not need a second copy of the SAME EXACT photo he or she is taking. Second, doing this often confuses the people you are photographing and they do not know which camera to look at. You would not want eyes straying away from the primary photographer's camera and looking at you. Instead, put on a different lens and get creative. For example, I usually throw on my favorite lens – the 135mm – while Idalia has a wider angle on her lens so that I can get close up shots of the bride/groom and the details while they are busy looking at her.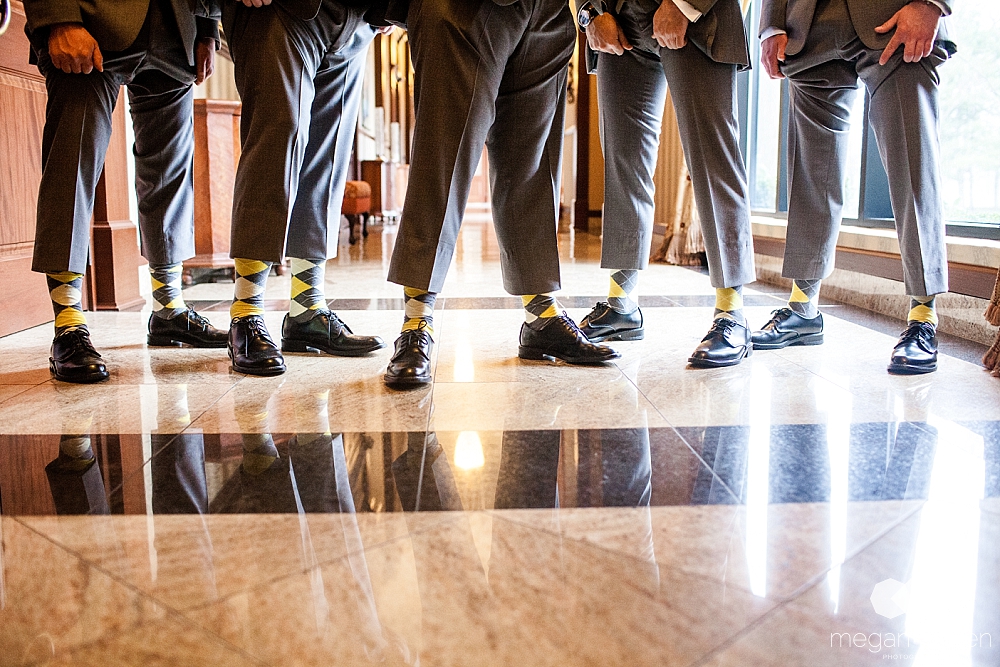 6. Be a back-up – most important during ceremonies!
The first kiss, the exchange of rings… they only happen once. You are there to make sure that between you and the primary photographer, you are getting a lot of photos during those times. Imagine what would happen if the photographers "missed" the first kiss! You are there to help make sure that doesn't happen. We also typically use different focal lengths to vary the photos – if Idalia Photography has the 70-200 on her camera and getting close-ups, I make sure to have a wide angle on mine to get full body shots.
7. Photograph guests and details at receptions
Receptions are often busy for the primary photographer, so as the second photographer, go around the room getting photos of the guests – table shots, couples, dancing, etc. Make sure to get some of the details as well. It's always good to make sure you got shots of all the little parts of the day, even if the primary photographer shot them also! The primary photographer will appreciate being able to include those in the set!
8. Be prepared…and have fun!
Know your camera and how to quickly change your settings like the back of your hand. There's no time when you are standing in the middle of an aisle during a wedding ceremony to take your time adjusting ISO. Bring water, bring snacks, and wear comfortable shoes. You'll be running around and barely sitting… but you will also be having tons of fun and laughs in the process!